My Top 10 Favorite Cereals!
It's time this web­site got seri­ous, and I can think of no more seri­ous a top­ic than list­ing my top 10 favorite cere­als (in all hon­esty, I real­ly can't … Does this make me a bad per­son?) From the ridicu­lous­ly sug­ary to the mod­er­ate­ly sug­ary — from the kind that crack­les and pops in your milk to the kind that stays crunchy in your stom­ach acid — I present to you my top ten cere­als. I'd like you all to keep in mind that this is only a list of cur­rent cere­als. This isn't a nos­tal­gic trip down mem­o­ry lane, it is about help­ing hun­gry boys and girls in Africa and around the world who don't know what cere­al to eat. So, with fake humil­i­ty, I present my list of favorite cereals: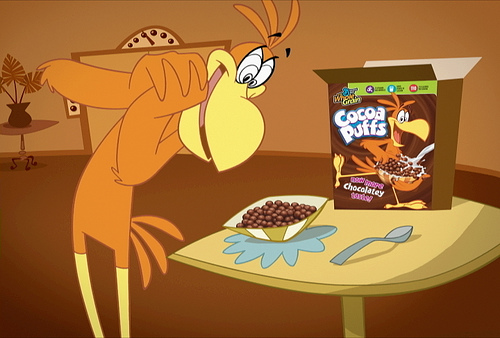 10. Cocoa Puffs — First of all, I'd like to point out that I acci­den­tal­ly wrote "Cocoa Puss," which I would still prob­a­bly eat, but not for break­fast. Any­way, Cocoa Puffs is an old favorite. Choco­late fla­vored puffed corn that turns milk into choco­late milk faster than … uhhh … the Flash eat­ing a turkey sand­wich on a blimp (I can write for the Fam­i­ly Guy!). It's sim­ple — no marsh­mal­lows, no shapes, no col­ors — just choco­late break­fast balls! Yum!
9. Crack­lin' Oat Bran — My first sup­pos­ed­ly good-for-you cere­al on the list, Crack­lin' Oat Bran is basi­cal­ly extra crunchy, extra dense, extra sweet hexag­o­nal pieces of gra­nola bars. They have a spe­cial place in my mem­o­ry, because when­ev­er I had them in my house as a kid, my dad would get a mark­er and rewrite the pack­age as "Crack­lin' Goat Brains." In fact, I noticed it was in my house about a year ago and found he did the exact same thing, with­out there being kids in the house… I'd get it more myself, but it's nev­er freakin' on sale!
8. Count Chocula/Frankenberry/Boo Berry — Like Cad­bury Creme Eggs, these suck­ers only get released once a year, and when they do, I flip out like a … frog prince at a … sweet six­teen par­ty(?). Any­way, they are uber-sug­ary, con­tain marsh­mal­low shapes and have effem­i­nate mon­sters on the box (which, in my mind, is even more scary). Franken­ber­ries get extra points for being flu­o­res­cent pink that prob­a­bly glows in the dark and may be used as a radioac­tive dye.
7. Gold­en Crisp — Some­times, I get a crav­ing for this cere­al like I crave few oth­er things (and yes, that includes friend­ship and love). This is prob­a­bly the rea­son why (accord­ing to wikipedia): "In a 2008 com­par­i­son of the nutri­tion­al val­ue of 27 cere­als, U.S. mag­a­zine Con­sumer Reports found that Gold­en Crisp and Kel­log­g's Hon­ey Smacks were the two brands with the high­est sug­ar content—more than 50 per­cent (by weight)—commenting that one serv­ing of this or oth­er high-sug­ar cere­als con­tained at least as much sug­ar "as there is in a glazed dough­nut from Dunkin' Donuts"." That com­bined with the absolute coolest mas­cot for any­thing ever (Sug­ar Bear) makes me won­der why it's only # 7 on this list …
http://youtu.be/o9LHPMm8FAk
6. Spe­cial K Vanil­la Almond- Anoth­er "good-for-you" cere­al. I dis­cov­ered it only in the last few months, and I real­ly like it. In fact, I did­n't notice just how much I liked it until I noticed that an entire box had gone in my bel­ly in about a day. It's not crazy sweet like the oth­ers on my list, but it's def­i­nite­ly sweet enough to sat­is­fy me … which, now that I think about it, prob­a­bly does mean that it's crazy sweet …
5. Fruity Peb­bles — Deli­cious, mul­ti-col­ored pieces of flaky detri­tus. Mmm! This is what I imag­ine God's dan­druff to be like — if God had dandruff/if God exist­ed. Next!
4. Lucky Charms — I know Wikipedia says that Gold­en Crisp is the sug­ari­est cere­al out there, but I just don't see how it is sweet­er than Lucky Charms. This is, in my esti­ma­tion, the most ridicu­lous­ly jam-packed with sug­ar cere­al out there. I likes my sweets, and this is the only cere­al to ever give me an actu­al sug­ar-high over­dose (this is when I can't stop gig­gling and even­tu­al­ly pass out in a pud­dle of my own gig­gle juices). Sug­ar glazed pieces of card­board-look­ing bits that look like those sym­bols on top of the num­ber keys on your com­put­er (&, #, @, *, !) and a mil­lion zil­lion dif­fer­ent marsh­mal­lows that are decades beyond oth­er cere­al brands in terms of marsh­mal­low tech­nol­o­gy. Some have mul­ti­ple col­ors. Some reveal hid­den mes­sages in milk. Some tell you to kill your fam­i­ly. All are deli­cious (espe­cial­ly the blue diamonds!).
3. Crispix — I love Crispix. I have no idea why, see­ing as how it's not sweet, has no car­toon spokesper­son (Slug­mo, the hairy Crispix slug!(he was dropped on car­pet as a kid)) and is not par­tic­u­lar­ly excit­ing in any way. I guess it's just the cere­al that I would choose to ease my way into a bleary, bare­ly-con­scious morn­ing, as opposed to atom­ize it with sug­ar explo­sions. Not to say that I don't like to atom­ize my mornings …
2. Apple Cin­na­mon Chee­rios — I know some of you won't even con­sid­er this in the top two Chee­rio
fla­vors, but hear me out! Apple Cin­na­mon Chee­rios rock. They are sweet, slight­ly tangy and almost good for you. Yes, Frost­ed Chee­rios are good, but I feel like they are basi­cal­ly cir­cu­lar Lucky Charms bits with­out the marsh­mal­lows. Hon­ey Nut Chee­rios are too maple syrupy. Multi­grain Chee­rios suck (the brown ones taste like they burnt 'em). Reg­u­lar Chee­rios are only to be eat­en when you feel too guilty about gorg­ing on good cere­als. Also, as opposed to cere­als like Gold­en Crisp or Lucky Charms, Apple Cin­na­mon Chee­rios are not so sweet that the thought of eat­ing the whole box in a sit­ting does­n't make me a lit­tle sick in my stom­ach (in hap­pi­ness). It's the per­fect gorg­ing cereal.
1. Cin­na­mon Toast Crunch — This is the great­est cere­al. I'm almost cer­tain that this is a sci­en­tif­ic fact. They are like a box of lit­tle, square orgasms (aaaaand there we go. I ruined them for every­one, includ­ing myself). I …uhhh … sor­ry. I guess I'm a jerk …